Evaluate the value of your shipment in an instant
The calculation includes customs clearance, cleaning, excise taxes, VAT, customs tariffs, insurance
Taxprice - the first service that allows you to instantly evaluate all the costs of conducting foreign economic activity around the world
Complex calculations can now be automated using Taxprice
Buy locally or bring from abroad?
Where to look for a supplier?
What alternatives are there?

Taxprice will help you make the right decision and build the complete logistics chain from the point of departure to the point of destination

You no longer need to have special knowledge and spend a lot of time calculating!

A customs broker is now needed only for paperwork. With Taxprice you save your time, nerves and money.
Taxprice calculates customs clearance, as well as:
Offers the most profitable TC options

Offers alternative suppliers

Calculates the speed of delivery

Saves your calculations for later revision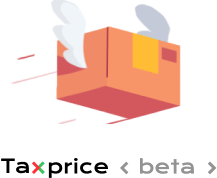 And this is just the beginning :-)
More features coming soon!
Our service has been launched in test mode, but soon we will expand its capabilities, be the first to know about the launch of the service in full mode.
Today international trade is available to everyone, it is not a secret, but why then only less than 1% of the companies in the world conduct international activities? We are confident that this is due to the barriers that prevent a decision on the expediency of the transaction. And there were no quick and free tools for making this decision on the market.
Taxprice is a tool for making international deal decisions.
Our service allows you to instantly assess the full cost of customs clearance, options for delivery of goods, brokerage services in any direction, take into account VAT, and then verify the calculation in the pool of customs brokers and transport companies, having received offers from them.
That is, you immediately understand at what price you will get the goods, taking into account all costs.
Epidemics, wars, sanctions and thousands more causes create billions of new supply chains every year. And the unification of goods makes the process of replacing a supplier easier.
Taxprice is the foundation of a new ecosystem in the global world.